Milwaukee M18 BPP2C-402C Cordless Drill Twin Pack
The Milwaukee brand has always provided its users with fantastic tools that not only last a long time but also have the power to go head to head with some of the toughest jobs it's faced with. If you are currently on the lookout for a drill but you can't decide on whether a combi drill or an impact drill is what you need, why not get both of them in one? The Milwaukee Cordless Drill Twin Pack (VIEW PRICE HERE!) has both a combi drill and impact drill for those users that need a bit of variety when it comes to working with different materials. This twin pack is filled with power thanks to each of the drills providing an 18V powered experience that can cope with some of the toughest applications around.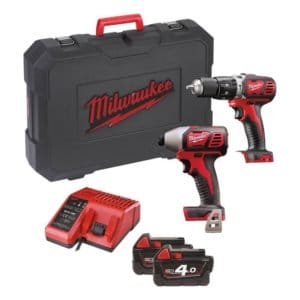 Both Milwaukee drills provide users with extreme power and both of them have different uses thanks to their designs and different features. If you find yourself in an area where space is limited, the impact drill will better suit your needs, whereas if you have plenty of space and you are looking to drill screws into plasterboard, the experienced combi drill can provide you with that help. These products do come at a price and the drills are in the high-end range which is why they would really only be suitable for users that are serious when it comes to tools and use them on a daily basis, but of course anyone is capable of using them thanks to the power they provide. If you are interested in knowing more about what these drills offer, have a look at some of the features they provide below:
Multiple accessories – This pack contains two battery packs that can be used simultaneously or as backup for the drill you are currently using. Consumers will also be presented with a charging dock for the battery packs and a nice carry case to keep the tools together around site.
Redlink overload protection – The redlink overload protection will make sure both drills are not overloaded and this feature also prevents overheating, which in turn provides longer lasting batteries and tools.
4-pole motor – Both the combi and impact drill have 4-pole motors integrated into their designs so users can be sure they are going to get a powerful experience.
LED lights – LED lights are implemented into both drills to make sure users can see what they are doing even in areas where light is very limited.
Heavy duty gearboxes – The heavy duty gearboxes integrated with both drills ensure maximum power and greater torque usage.
Battery gauge – You will be in complete control of the battery life thanks to the fuel gauges that each drill provides the user. You can quickly see how much battery is left and how much time you have left with the current battery pack before it runs out completely.
Compact & lightweight – There aren't many drills out there that can provide as many features as these drills and still be as lightweight as possible. You will be able to use both drills overhead and for long periods without them causing any strain.
Flexible battery system – Owners of other Milwaukee power tools will benefit the flexible battery system that will fit all M18 batteries regardless of what the power tool is.
Easy to handle – Both drills are very easy to handle thanks to their lightweight and compact structures, they also come with an easy to hold grip which provides comfort and full control during use.
With regards to the price of this twin pack it's a little steep but seeing as you get two drills in one pack you will find that it is in fact very cheap and affordable. Both drills offer users a different experience and provide different features for different applications and if you are looking to own a couple of drills manufactured by a reliable brand, then they don't come much better than Milwaukee. You will find both drills are feature rich and are willing to take on any drilling challenge put in front of them and if you are looking for a couple of drills that are going to last you a long time then this twin pack should definitely be considered.
Summary
Features: Redlink overload protection – LED Lights – Twin pack
Pricing: High-End