Home DIY Tools – The Buying Guide
If you work in the construction industry or you like to dabble in a little D.I.Y around the house here and there, you will already know how important it is to have the right tools at your disposal. Having the right tools not only gets the job done right but it also provides a professional touch no matter what the job entails. There are hundreds of different power and hand tools out there that will provide you with an advantage over any job you undertake, and with the help of this guide you will have a much better understanding of what job each tool is perfect for.
Before undertaking any job, it's always important to consider not only what tools you need to get the job done, but what tools are going to get the job done right and in the safest possible way. You may want to cut some floorboards because you are fitting out your attic space, and if that's the case you will want to have a good cordless circular saw to help you on your way – if doing it with a handsaw you will find it is going to take you a lot longer and the cuts aren't as precise as what a good quality circular saw provides. Thinking and planning the job before undertaking it will save you a lot of time and money in the long run as you'll know exactly what you need and what you need to do to get the job done right.
If you are currently looking to buy new tools for a specific job and you're interested in knowing more about what the tools are able to offer you and what tools are best for that specific job, have a look at all of the common power tools below and their many benefits.
Jigsaws
Jigsaws are very popular in the construction industry as they provide users with a way of cutting wood and other stronger materials with much more control and freedom when looking to cut in different directions other than just straight lines. You will find that jigsaws have plenty of different uses and many jobs can be done with the helping of a good quality jigsaw and its handy features.
Jigsaws are used in conjunction with a working bench so materials can be cut in curve shapes and other different angles to suit the user's needs. These power tools are often used when users need to cut a curve effect or even small rectangles and squares where other cutters such as circular saws would have a blade that is too big to complete those specific jobs. The jigsaw can also still be used to cut straight lines thanks to the guides some of them come with, but they are much better suited to cutting different shapes and curves where they have much more control and freedom over the material.
Have a look at some of the jobs that can be done with a jigsaw:
Inner cutting – If you want to cut an inner circle out of an already circular material without breaking the outer circle shape, then you can do that with ease with the use of a jigsaw and a drill. You can simply drill a hole in the middle point of the material and then the jigsaw blade can be placed within it and used to follow the inner circle line to cut that specific shape out.
Outer cutting – You may have a straight edge that you want to be a curve instead, users can simply draw a curve of where they want one and they will easily be able to follow it with the jigsaw to produce the curve effect. Jigsaws provide users with much more freedom in getting close to the drawn line and then some sanding on the edge can be done to finish the application.
Cutting thin materials – You still may need to cut straight lines out of thin materials and with the specific guides that most jigsaws provide makes it easy to do. You wouldn't want to use a powerful circular saw on a flimsy material as it could break; instead, using a jigsaw provides the user with much more control.
The above list consists of just a few of the many jobs that can be done with the jigsaw and there are many more uses for one that is of good quality. Have a look at some of the features that should be implemented into a standard jigsaw to provide users with the ability to undertake most jobs:
Ergonomically designed – All of the latest jigsaws are designed ergonomically to provide much better grip and more control for users. Even cutting the toughest of materials, users can be sure they are comfortable and in full control of the jigsaw.
Different blades for different materials – Jigsaws are able to cater for many different blades that are used to cut a variety of materials from wood and metal to ceramic tiles. All cordless jigsaws are at their most powerful when the right blade is inserted to match the job it's assigned to do.
Safety guards – Jigsaws are powerful and very dangerous if used incorrectly which is why they are all designed with maximum safety in mind. This means they have plastic/metal guards to help protect the user's hands and eyes during application.
Dust blower – Good quality jigsaws come with dust bags or the structure to attach them which will provide the user with a much better cutting experience. Dust blowers help keep dust off the application and the dust bag will help keep the working environment clean and safe.
Tool-free blade change – A lot of the older generation cordless jigsaws didn't offer the tool-free blade change feature and it would always take time out of the day just to change the blade, but that is in the past and with the new tool-free blade change technology most of these jigsaws offer ensures changing blades is much more quick and efficient.
Steel plates – The plates located at the bottom of the jigsaws are often steel plated which makes them a lot more robust and easier to follow cutting lines.
Variable speed control – Different jigsaws at different price ranges offer different speeds to suit the needs of the user and the application they are cutting. Usually the speed can be changed by a simple dial or button on the jigsaw itself.
Laser cutting guides – The laser cutting guides are usually found on the higher-end products but it's still a feature among the more affordable jigsaw products too. The laser cutting guide makes cutting in straight lines much easier than just relying on a drawn on line or the plastic guide itself.
Soft start – The soft start is a common feature among jigsaws these days as it was proven that starting the blade slower provides a much better start and thus a much better finish.
As the above suggests, jigsaws have many features and settings depending on their price range that makes cutting curves and other shapes out of multiple materials easy. No matter what job you intend to undertake with a jigsaw you can be sure you are going to be in full control of the application, and a jigsaw will make all of the precise cuts you need it to. If you are currently on the lookout for a new jigsaw, it's particularly important to pay attention to the price and the brand you are buying from, it's not always the best option to buy a jigsaw because it's cheap, and instead it's always better to spend a bit more money and buy one that has all of the features and the reliability you seek.
Circular Saws
Circular Saws are generally used for straight cuts as they often provide users with guides to make sure all cuts are precise. Circular saws are particularly useful for users that need to cut to a certain depth as the majority of them often provide a cutting depth of around 55mm, whereas some are able to go as deep as 70mm which is perfect for thicker density materials. They all provide their users with multiple features and settings that can give them advantages no matter what their job entails. Have a look at some of the jobs that are often completed with a cordless circular saw.
Garden decking – A lot of people use these when doing their garden decking at home as they provide users with an easy way to make straight cuts quickly. There is loads of straight cutting involved when it comes to building your own decking which is why these tools are well suited to this specific job.
Floorboards – Thanks to the adjustable cutting depth that circular saws provide, it makes cutting floorboards much easier and quicker. Users will also be able to cut floorboards that are already fitted thanks to the adjustable depth settings, which mean they will cut the exact thickness of a floorboard and will miss the joists completely.
Scaffold planks – A lot of scaffolding businesses use circular saws for cutting planks that are too big and overhang the scaffold structure. They also cut smaller boards so that they can be used as plates for the scaffold poles to sit on.
Cordless circular saws obviously have a lot of features and settings which make them well suited to just about any job that involves making straight cuts – and even overhead cutting can be achieved thanks to their cordless capabilities and their lightweight designs. Have a look at some of the many features a standard circular saw should have if it's worth adding to your toolbox:
Bevel cutting – The bottom plate of the circular saw can be adjusted in different angles that let users make bevel cuts. Most common circular saws let users adjust the plate to around 50 degrees.
Variable cutting depths – Circular saws allow users to adjust the cutting depth and they can usually cut up to 55mm in material thickness. It's important to adjust the cutting depth to just a little bit more than the thickness of the material – just so it cuts it all the way through but also not too much that it is going to give kickback.
Spindle lock – The spindle lock feature is used to help users change the blade within a couple of seconds without the need of additional tools.
Laser guide – Laser guides have been integrated with a lot of the latest circular saws to ensure even more accuracy when making straight cuts.
Electric brakes – The electric brakes can be used by simply releasing the trigger, this helps reduce the flow of power and the blade stops a lot quicker than a circular saw without electric brakes.
Slow start – The slow start feature was introduced so users can get a much more precise cut from start to finish of any application and material.
Lock-off – The lock-off button ensures users do not accidently turn on the circular saw when they don't need to, providing a much safer working environment for everybody involved.
These are just a few of the many features circular saws provide their users and you will find that the more expensive they get, the many more unique features are implemented. You can purchase circular saws pretty cheap but it's always best to spend a little bit extra and buy a circular saw with a brand that you can trust.
Standard Cordless Drills
Cordless drills are one of the most popular tools in any toolbox these days thanks to their versatility and their ability to provide users with multiple uses. You will find that most drills are able to cater for different drill bits that not only let users drill, but also let users drive screws in. Cordless drills have many different drill bits that can be fitted with them which makes them one of the most diverse and handiest tools around. The different jobs a standard cordless drill can undertake is unlimited but here are a few of the popular jobs that can be done with ease using any cordless drill:
Stud work – You will find a lot of carpenters putting up wooden stud work have cordless drills as it involves a lot of screwing and drilling holes. Once the stud work is up, you will then find dry liners use cordless drills to hang the plasterboard to finish off the stud work, so no matter what trade someone is in, they always have a use for a cordless drill.
Flat pack assembly – A lot of flat pack assembly is done with the use of screwdrivers and Allen keys, but with the use of a drill and some drill bits makes this job a lot easier.
Odd jobs around the house – It's always good to invest in a cordless drill because you never know when a job might pop up when the use of a drill would be very handy. Anything from putting up curtain rails and shelves to hanging doors and pictures can be done with the use of a cordless drill.
Those are just a few of the jobs that can be done with the help of a cordless drill and you will find that all tradesmen use a drill at some point in the day which just goes to show how useful they are. If you are looking to buy a new cordless drill, consider the following features they offer to make your jobs even easier:
Adjustable torque – The adjustable torque feature is important for those jobs that are much tougher and require a torque setting change to makes sure it is done with ease.
Adjustable speed – There are plenty of drills manufactured by different brands that have different speeds to suit the needs of not only the application, but also the user.
Voltage – Make sure you have a look at the voltage the drill provides, standard drills are able to provide at least 18V of power which is ample enough for the toughest of jobs. The higher the voltage more or less means the more power a drill has.
Keyless chuck – The keyless chuck feature makes it much easier for users to change their drill bits without the need to use extra tools. Simply turning the chuck to tighten and loosen drill bits is all it takes.
Multiple modes – Many standard drills are able to offer users multiple modes to work with. You will find drills are not only able to offer a drilling mode, but also a hammer drill and screwing mode to make the drill more of a combi type.
Belt clip – A simple belt clip attachment is usually offered on the mid-range and above drills as they make it a lot easier for tradesmen to go about their jobs whilst their drills are in arms reach and attached to their belt.
Extra accessories – Drill purchases with the popular brands often come with accessories such as drill bits and other handy attachments. You will often be presented with a nice carry and a fast charger to help you along your way.
There are plenty of features drills provide their users that makes completing any job effortless. All drills have different features and settings and it's always important to spend a bit extra on a drill that is going to provide you with not only everything you need, but also reliability that will ensure you get a long lasting relationship with the drill. When looking to purchase a new cordless drill to suit your needs always make sure you go with an established brand, it may mean paying more but with the warranty they provide and the experiences they have means you get a good quality drill that is going to last.
Impact Wrench Drills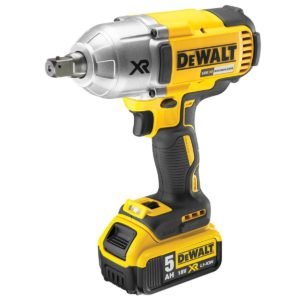 Impact wrench drills have become a popular tool among many trades in recent years thanks to their ability to remove some of the toughest nuts and bolts with ease and to fasten them just as easily. A variety of tradesmen use impact wrench drills to go about their job on a daily basis and will find their uses are invaluable to their workload. Impact wrenches offer a variety of features and are capable of doing multiple jobs across many trades. Have a look at some of the jobs impact wrenches are able to undertake thanks to their power and variety of features:
Scaffolding – Many scaffolding companies use impact wrenches and socket sets as their first tool and will use it for hours on a daily basis which just goes to show their power and reliability. They are very useful to have around the house as well thanks to the many different socket bits that can be used with them which give them even more uses.
Car wheels – Impact wrenches can produce enough power to easily undo nuts and bolts on car wheels, which is why you will often see these products in car garages. High-end air compressed impact wrenches are used a lot in Formula One racing thanks to their quick ability to change tyres in the pit stop.
Fitting kitchens – Impact wrenches come with different powerful motors and uses, and the ones that aren't necessarily as powerful are perfect for kitchen fitters and flat pack installers that have both a standard drill and an impact drill for the nuts and bolts work.
Bicycle repair – A lot of people have impact wrenches in their garages because they are particularly useful for the repair of bikes when undoing nuts and bolts might seem too hard to do with a manual spanner when they are rusty. Jobs that take 20 minutes with a spanner will likely take just a few seconds with an impact wrench.
Those are just a few of the jobs impact wrenches provide their users and no matter what sort of job you are looking to undertake when it comes to nuts and bolts, you can be sure an impact wrench is going to be the tool you need to do it quickly and efficiently. Have a look at some of the many features you should look for in a good impact wrench:
Variable torque settings – Most good impact wrenches come with different torque settings that lets you adjust to suit your needs. No matter how tough or easy a bolt is to fasten and unfasten, you can be sure an impact wrench with multiple torque settings will have a setting to suit that jobs needs.
Hog ring – Instead of common impact wrenches using a spring loaded socket function many of them now have what's called a hog ring, which attaches the socket using friction.
Fan cooled motor technology – As impact wrenches are very powerful it's mandatory that most of them now have air cooled motor technology which helps to prevent overheating during the toughest of applications.
Breakaway torque – Common impact wrenches now have a breakaway torque feature which is used when the stubborn of bolts are beginning to unfasten.
Variable speeds – A lot of the impact wrenches released in recent years have variable speeds that can be adjusted to suit the applications needs.
Electronic brake – Electronic brakes are used to slow the speed of action when the finger is off the trigger.
4-pole frameless motor – The 4-pole frameless motor technology is second to none and provides a lot more power than the other motors some impact wrenches provide.
With the many different features impact wrench drills provide along with their power makes them one of the best tools on the market for your nuts and bolts needs. No matter how tough your nuts and bolts are fastened, you can be sure you are going to have the chance to unfasten them with ease thanks to an impact wrench drill.
Angle Drills
Angle drills are much like standard cordless drills except they are built with convenience in mind. Angle drills let users drill and screw in applications where space is very limited and normal drills aren't able to fit, with the use of an angle drill, drilling can commence at an angle to suit the user's needs. Angle drills can be used to complete many different jobs and below we will look at some of the most common jobs where angle drills are used.
Take off radiators – If you have taken a radiator off in the past you will already know how hard work it can be. With the use of a cordless drill, it lets users unscrew in the tightest of spaces and taking off radiators is a breeze.
Carpentry – These tools are great for carpentry depending on what's being built as it can get in all the tight areas normal drills can't cater for.
Flat pack furniture – Most of the time a standard drill can be used for flat pack furniture but it doesn't hurt to have an angle drill at your disposal to get all of the screws that can't be reached with a standard drill.
The above are just some of the jobs that can be done when using an angle drill and there are an unlimited amount of different jobs that can be completed, if there are any screws in tight spaces then angle drills are the perfect tools to get the job done. Have a look at some of the features a standard angle drill offers its users:
Multiple pivot positions – Some angle drills are only designed to work at 90 degrees but a lot of other angle drills can be adjusted in several different positions to make working in tight areas even easier.
Keyless chuck – A keyless chuck is implemented into most angle drills these days to help users change drill bits with ease and without the use of additional tools.
Electronic brake – The electronic brake will help users stop the drill with ease by simply braking the chuck as soon as the trigger is released.
Multiple speeds – Angle drills often provide the user with multiple speeds that can be changed to suit the needs of the user and application.
Fan cooled motor – Most of the angle drills come equipped with a fan cooled motor which means users can use the angle drill for prolonged periods without any of its components overheating.
Metal gearbox – The gearboxes are often housed in metal material to help protect it which also provides much more power than standard gearboxes.
Better leverage – Angle drills often come with an attachable handle that can be attached to provide extra leverage during tough assignments.
These are just some of the many features an angle drill offers its users and if there are any jobs that can't be done with a standard drill, then you will find an angle drill can provide you with the tools necessary to get the job done no matter how much space you have to work with. They come with different angle positions to suit the user's needs and there are plenty of other jobs that can be done with an angle drill.
Reciprocating Saws
A reciprocating saw is often used in demolition projects or is used for jobs that don't really require a "professional touch". The powerful motors the reciprocating saws are built around will ensure users have a tool that can undertake just about any job that it is presented with. It has a wide range of features and settings that lets user's get on with jobs without having to necessarily do anything other than push the trigger and move it where it needs to go. Have a look at some of the jobs a reciprocating saw is used for:
Tree/branch cutting – These tools are perfect among garden users as they provide a long enough blade that can cut through the thickest of branches. They almost act like a chainsaw except they are much more lightweight and can be used to do a lot of other jobs.
Joist cutting – These reciprocating saws can be used overhead to cut wooden materials such as joists where accuracy isn't really important. Cutting joists can be done with ease using these saws.
Demolishing used objects – If you have any objects that need to be recycled and taken to the tip it's always easier to cut the object down into smaller pieces. If you have an old table that needs to be recycled it's not always worth taking it apart, instead, using a reciprocating saw to cut it into smaller pieces is the easiest and quickest option.
Variety of materials – No matter what material you need to cut through, a reciprocating saw will allow you to do it with ease and it can cut through anything from wooden materials to PVC and metal.
Reciprocating saws are great for those that need to cut objects but don't necessarily need to be cut precisely. These powerful tools will make cutting through almost any object look effortless and with all the following features a reciprocating saw provides its users shows why it's one of the most popular tools around:
Variable speed control – Multiple speed options ensure materials get cut quickly or slowly depending on their density.
Keyless blade change – Users will not need any additional tools other than their hands when changing the blades quickly and safely – these reciprocating saws have blade clamps which simply need to be loosened to insert and remove another blade.
Adjustable shoe – The shoe that holds the blades can be adjusted in such a way that you will be able to use only one part of the blade at a time, this ensures blades last longer.
Overhead work – Reciprocating saws were designed to be compact and lightweight so working with objects is easily possible.
Orbital action – The orbital action technology introduced into reciprocating saws ensures faster cutting with a lot less effort.
Ergonomically designed – These lightweight and compact reciprocating saws were designed ergonomically to make cutting much more cutting and thus put users in full control of any application.
These are just a few of the features a reciprocating saw is able to provide its users and you should always consider the above features when looking to buy a saw for your toolbox. Reciprocating saws may not be the most popular tool among all tradesmen but they are perfect to have around the house for odd jobs and some tradesmen do depend on these tools on a day to day basis.
Mitre Saws
Mitre saws are one of the most popular power tools especially when it comes to carpenters, they rely on mitre saws to help them tackle their cutting jobs quickly and efficiently. Mitre saws can be attached to worktables which can make cutting longer lengths of wood and other materials easy, and with all of the angles these mitre saws can cut at makes them a mandatory tool among any carpenter. There are many affordable mitre saws you can buy for the house as well and it's always recommended to have one in the garage as it can take on a lot of different jobs. Have a look at some of the primary jobs mitre saws are able to undertake:
Skirting boards – These mitre saws are perfect for cutting skirting boards as many cuts require precise measurements and need to be cut at 45 degree angles to meet with other skirting boards going in a 90 degree direction.
Lengths of wood – No matter what size you need to cut multiple pieces of wood from, having a mitre saw lets you do that with ease by simply pulling down the cutting edge on the chosen material and then moving it along for the next piece to cut.
Facia work – You will find that a lot of roofers also have a mitre saw to help them cut the facia work around the guttering.
There are many jobs that can be undertaken using a mitre saw and most people use one when there is bulk cutting work involved. Have a look at the many features to look for when looking to buy a mitre saw:
Laser guides – Depending on the range of mitre saws, you may look towards having one with laser guides that is going to make cutting a lot more accurate. You should really only look for a laser one if you are serious about tools and you need a mitre saw that is going to provide you with precise cuts every time.
Dust extraction – The dust extraction features most mitre saws provide ensure users are always working in a cleaner environment, which also makes it a safer environment.
Safety features – It's important to have a mitre saw that is filled with safety measures to protect you and others working around you. Many of them come with lock-off and plastic guards to ensure greater safety.
Multiple cutting angles – Mitre saws provide an adjustable angle cutting system so you can be sure that no matter what angle you need to cut your material at you can always be sure a mitre saw has that ability.
Corded – Cordless technology is great for those working in multiple areas throughout the day but a corded mitre saw is paramount for the amount of power it provides its users.
Versatility – Mitre saws are pretty versatile when it comes to cutting different metals and with the quick change of the disc blade ensures it can cut a wide variety of materials to suit you.
These are just some of the many features mitre saws are able to offer their users and you will find that there are many other features that come with higher-end mitre saws. These features are just some of the most basic and depending on your requirements will depend on how much you want to spend on a mitre saw. If you are going to be using it on a monthly basis then it might be worth going for a cheaper option that has the standard features but if you are looking to use a mitre saw on a daily basis as your job then you will want a higher-end product that is more expensive but provides many more features and reliability.
Features & Accessories To Power Tools
Have a look at some of the other features and accessories the above tools might provide to make your jobs even more efficient:
Lithium-Ion technology – The lithium-ion technology plays a major role in power tools these days thanks to the batteries abilities to stay charged for a lot longer and also the power they provide within a lightweight design. Most power tools are designed with lithium-ion battery packs which just goes to show what great technology it is.
Ergonomically designed – All of the latest hand power tools are ergonomically designed with the comfort of the user in mind. This means products are provided with rubber grips so users remain comfortable and in full control during any application.
Cordless capabilities – Different power tools come corded or cordless depending on the power the manufacturer needs to get out of them. Obviously cordless products are much better in terms of being able to take them anywhere without needing a plug and no wires getting in the way of work, but corded tools also have their own positives in being able to provide much more power to the user if they are going to be working in the same area all day.
Compact & Lightweight – Power tools are getting much more compact and lightweight but are still able to provide the same power thanks to their inner technology such as the lithium-ion technology.
Warranty – Any good power tool with a good brand should provide its users with a reasonable warranty that ensures parts replacement or complete replacement if the product should fail or not be up to the standards set by the brand itself. Always check to see if the product comes with sufficient warranty, any good brand will be confident enough to provide at least a year to their consumers.
LED Lights – A lot of power tools come with LED light attachments so users are still able to undertake jobs where light is limited.
Cases – It's always handy to have a case supplied with the power tools to keep all of the accessories in one place, thus making transportation very easy.
Fast chargers – A lot of the power tools come with fast chargers that can charge a battery pack within a matter of minutes to an hour.
The above power tools are just some of the most popular tools in the industry and there are plenty of other tools on the market for you to buy that may make your life a lot easier with other jobs. Have a look at these tools to see if they will benefit your experience:
Planer – If you are looking to insert a new wooden door a planer can be used to trim the bottom off. It's more or less like a sander except it takes more off than a sander does and it doesn't provide as good of a finish, but work with a planer can be sanded off afterwards.
Sander – Having a good sander is paramount for the users looking to finish off their work in a professional way. You can purchase different sanders for different materials and sanding off a project at the end of it is usually the different between it looking very good or not good at all.
Router – A good router is needed for when users need to route out a particular shape out of the wood. Usually good for making slots and is often used on the edge of materials to make nice designs.
Nail gun – These often come with compressors depending on the use of one but are also cordless. These can be very useful for putting up wooden slats on fences and sheds and have a use for many other jobs.
Of course, power tools are invaluable when it comes to tasks where a hand tool isn't going to quite cut it but it's still important to have a good set of hand tools that can do the jobs when power tools do not necessarily have the control or accuracy to complete. Have a look at some of the hand tools you should have in your possession to make completing smaller jobs a lot easier:
Chisels – Having a good set of chisels at your disposal is great for the jobs that require a bit of woodworking. Chisels are handy for those that need to cut out small notches of wood when even power tools such as the jigsaw might not have enough control or accuracy.
Handsaw – A good handsaw with sharp teeth is always handy to have around to do the smaller jobs when cutting with a power tool might be pointless to get out and setup. Handsaws are great for all of the delicate jobs that require a bit more control over the project where a power tool might go wrong.
Spirit Level – Having a simple bubble level at your disposal is great to make sure your finished work is properly level. A level can be used on many finished jobs such as fitting kitchens to hanging picture frames.
Screwdrivers –It's always handy to have a good set of screwdrivers at your disposal as you never know when you are going to need one. They come in different shapes and sizes so you will be able to work in spaces where power drills might not be able to fit in.
Hammer – A hammer is a good tool to have around when you need to rip materials out of their place or if you need to bang nails in to hold some materials in place temporarily before you can screw them in permanently. A hammer has many different uses and an unlimited number of jobs can be completed when using a hammer which is why it's a tool that should be in everybody's toolbox.
Sandpaper – Using sandpaper to finish off your projects is the difference between your project looking professional and looking like it was completed by an amateur. Always have some sandpaper lying around and you will find your D.I.Y skills will benefit from it.
Good set of steps – It's important that when working at height you have a good quality ladder or some professional steps – you don't want to be doing any overhead tasks that are dangerous when stool on a wobbly stool or chair.
There are thousands of other hand tools out there that can benefit your working experience but the above ones are some of the ones used on a daily basis at home and by tradesmen. Having good quality tools at your disposal is the difference in making a job look great or average and if you want to make your job look great it's important to invest in some proper hand tools.
In conclusion, this guide was made in order to provide you with a bit of clarity and there are plenty of other tools on the market that can provide you with the experiences you need to get the jobs done quickly and safely. Many tools provide many great features and it sometimes takes a little bit of research to not only find out what the best tools are for the specific job, but also the best brands out there that can provide you with reliable tools that are going to last.