AEG 18V Cordless Combi Drill
The AEG brand is well-known among the tools industry that provide top quality products at an affordable price. AEG certainly isn't the biggest supplier for power tools out there but the ones they do provide are very reliable and come with many features that better the user's experience. If you are currently looking for a new drill to suit all of your drilling needs, you may look towards the AEG 18V Cordless Combi Drill (VIEW PRICE HERE!) and the features it provides its users.
The AEG 18V Cordless Combi Drill is one of the most affordable drills out there that can provide users with 3 different modes when drilling, a drill, hammer drill, and a screwdriver which makes this product much more versatile when compared with other one mode drills.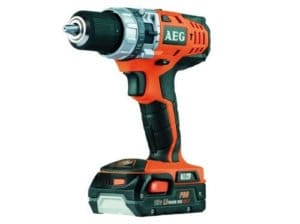 This particular drill was designed to provide users with not only a powerful experience with different drilling modes but also a drilling experience that is comfortable and lightweight; this product only weighs 2kg which is much lighter than its competitors.
Along with many of the other features this AEG cordless drill provides, it's very hard for its competitors to compete with thanks to its very affordable price. If you are currently looking for a drill that is going to provide you with multiple drilling experiences and be affordable at the same time then you should definitely consider the AEG 18V Cordless Combi Drill. Have a look at some of the features this drill provides its users:
3 drilling modes – Users are presented with 3 different modes. Drill, hammer drill, and screwdriver modes can be used depending on the user's requirements. There aren't many other drills out there that can provide this much versatility in one small, compact and lightweight design.
Fan cooled motor – The motor is fan cooled during use which prevents it from overheating and lets users carry on with their work as normal. Users are able to use this drill for longer periods than its competitors thanks to this feature.
Power light – Users have the option of switching on its powerful light which will allow users to proceed with their work as normal even when working in areas where light is limited.
Lithium-ion battery – The lithium-ion battery packs have been known to last a lot longer than their competitors and with the inclusion of a lithium-ion battery pack in this purchase means users will have a longer battery life that doesn't need to be charged that much.
2 speed gearbox – The 2 speed gearbox ensures much more torque power when it's needed most. Users can adjust the speed with ease depending on the drilling application they require.
Keyless chuck – Users will easily be able to change drill bits thanks to the keyless chuck feature provided within its design. Simply twisting the chuck can tighten or loosen any drill bits depending on the user's needs.
3 year guarantee – AEG provides consumers with a brilliant 3 year guarantee with their drills which means users will be confident buying a product knowing that it will be replaced if anything goes wrong. The 3 year guarantee provided just goes to show how confident AEG are in their products.
18V Motor – The 18V motor is a popular choice when it comes to cordless drills as it provides users with enough power to do some of the toughest drilling jobs. The 18 V motor also enables users to drill for prolonged periods and as it is fan cooled there is no risk of it overheating.
Batter & charger included – The batter and charging adaptor is also included with the drill so you'll not have to worry about purchasing any extras, you can just get the drill out the box and start using it immediately.
Anyone that purchases this AEG cordless drill will quickly see why it's very popular right now among tradesmen and homeowners. It provides enough power to do all of the toughest drilling jobs and with the 3 drilling modes it provides means it's very versatile when compared with other drills in the same market. If you are currently on the lookout for a very affordable drill that can go head to head with some of the most difficult drilling jobs then the AEG Cordless Combi Drill should definitely be considered.
Summary
Features: Fan cooled motor – Powerful light – 2 speed gearbox
Pricing: Affordable