DeWalt 18V XR Lithium-Ion Cordless Drill
Buying a drill from DeWalt will provide you with an experience that is quick and painless thanks to the technology they implement into their tools. DeWalt know a thing or two when it comes to Cordless drills which is why they are one of the most popular brands out there in among tradesmen. If you are currently looking for a cordless drill to add to your already reliable toolbox then the DeWalt 18V XR Cordless Drill (VIEW PRICE HERE!) will be able to provide you with a drilling experience that is second to none. DeWalt have always produced products that are not only reliable but they also make sure their tools are some of the most powerful available and the DeWalt 18V XR Cordless Drill sets the same standards.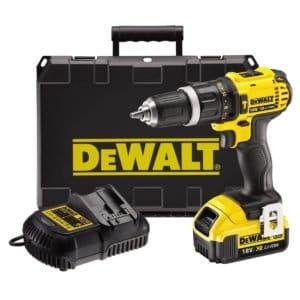 The DeWalt 18V XR Cordless Drill was available to the public 2013 and seeing as many people are still adding this to their toolboxes just goes to show its reliability and robust structure it's designed upon. If you currently find yourself in a position where your current drill isn't doing the job it's supposed to, have a look at this DeWalt cordless drill and the many features it provides its users below:
Lightweight – You will quickly find this DeWalt Cordless Drill is one of the most lightweight drills around thanks to it weighing only 1.5kg. Many other drills out there are twice as heavy as this one but this one still provides users with a powerful and robust experience.
30 minute charger – The charging adaptor included with this drill is able to charge battery packs within 30 minutes which is one of the quickest in the industry. You can be sure your work time isn't spent waiting around waiting for charging to complete thanks to this fast charging adaptor.
Carry case – This drill comes equipped with its own heavy duty carry case which makes transporting this drill around site very easy – it keeps all of the accessories in one place and prevents any potential knocks from bringing the drill to any harm.
3 year warranty – When users register this product on the DeWalt website they will have an extra 2 years warranty on top of the 1 without registered. This gives users peace of mind knowing they are spending a lot of money on a drill but they are covered should anything go wrong.
Keyless chuck – The keyless chuck feature lets users quickly change drill bits within just a few seconds. Simply turning the chuck will tighten or loosen the drill bit depending on the user's needs.
Adjustable torque – 14 different torque settings gives users an added advantage no matter what application or material they are drilling into.
Improved visibility – If users find themselves working in areas where light is limited then they will be happy to know this drill also comes with a bright LED which provides the user with much more visibility.
Easy battery attachment – The battery insertion and removal is done with great easy thanks to the sliding battery pack function this product provides.
Ergonomic handle design – The handle on this product is very easy to grip thanks to its ergonomic design. It's perfect for those using drills in wet weather as it doesn't slip and users will remain in full control of any application.
Drill bit storage – The handy drill bit storage lets users put their drill bits in and keep safely when they are not in use. This drill has everything a lot of other drills do not offer.
Belt clip – The belt clip lets users carry the drill around site hands free which is perfect for those carrying other materials and tools.
There aren't many better drills out there than this DeWalt 18V XR Cordless Drill and if you are looking for a drill that isn't going to falter no matter what job it's assigned to do then you may want to consider this DeWalt product. It has everything from a simple drill bit storage to 14 different torque settings that makes drilling into tougher materials a lot easier, and along with the fact it comes with its own heavy duty carry case makes this drill one of the best drills in its market.
Summary
Features: Lithium-Ion battery – 2 speed gearbox - Lightweight
Pricing: Affordable