What Can You Do With Table Saws? Our Best Beginners Guide To Table Saws
Table saws can be a little overwhelming to understand due to their various parts and accessories, but these tools should be in any woodworkers life, as they can help you cut all kinds of wood precisely and with ease.
Once you understand table saw basics, you can start to figure out what you need in the table saw and how they work, for example, a table saw consists of the basics such as mitre gauge, rip fence and blade, they additionally have two different motors and drive configurations, as well as several features and accessories that come included depending on the model you buy.
So as we can give you the low down on everything you need to know, we have composed an information-packed guide below to table saws that will leave you feeling confident and a professional when it comes to using them.
Let's get into it!
What Is a Table Saw?
Let's start our guide by understanding what a table saw is. This power tool is used for woodworking and comes with a circular saw which is powered via a motor that sits on top of the table, you can use this protruding saw to cut the wood into different shapes and sizes according to your project.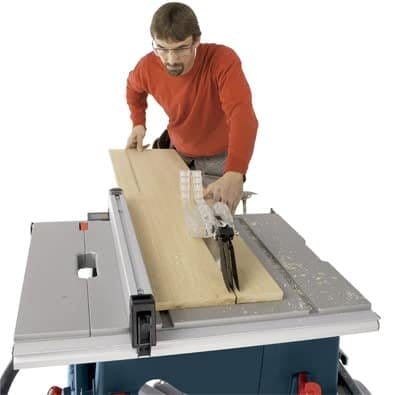 You can also mount different accessories to your table for a variety of projects such as a crosscut sled and use an extension table for large wood pieces.
What Types Of Table Saws Are There?
Table saws come in a few different types according to the job they are suited for, we will categorise each one into stationary and portable to make it easier to understand.
Portable Table Saws
Portable table saws are very lightweight and small and can be moved around easily for different jobs, they tend to use a direct drive system and have around 15 amp power motors.
These types of table saws can be split into; jobsite, compact and benchtop.
Jobsite
Jobsite table saws come mounted and are most suited for construction sites as they are pretty hard-wearing but still have a lightweight, allowing you to take them from site to site.
Benchtop
These models are very lightweight and affordable, they come without a stand and are mostly used in homes or garages because of their small footprint. The table saw tends to be made of plastic or aluminium to keep the weight down and has quite a small rip fence capacity.
Compact
Compact table saws might have a smaller rip capacity than full-sized ones but do still come with a table and a motor most of the time, they also keep their lightweight while being higher quality than benchtop models.
Stationary Table Saws
Stationary table saws are used for more professional purposes and are not portable as they come full-sized with belt-drive motors and aluminium or granite tabletops.
These table saws are split into; contractor, hybrid and cabinet.
Contractor
These table saws are mostly used by professionals due to their very large size, however, nowadays contractors tend to go for more portable table saws instead that can do a similar job.
Hybrid
Hybrid table saws are like the more modern version of a contractor saw, they hold a similar set-up except have inboard direct drive induction motors. These saws also come with an open leg or full enclosure design which makes them more like cabinet table saws too.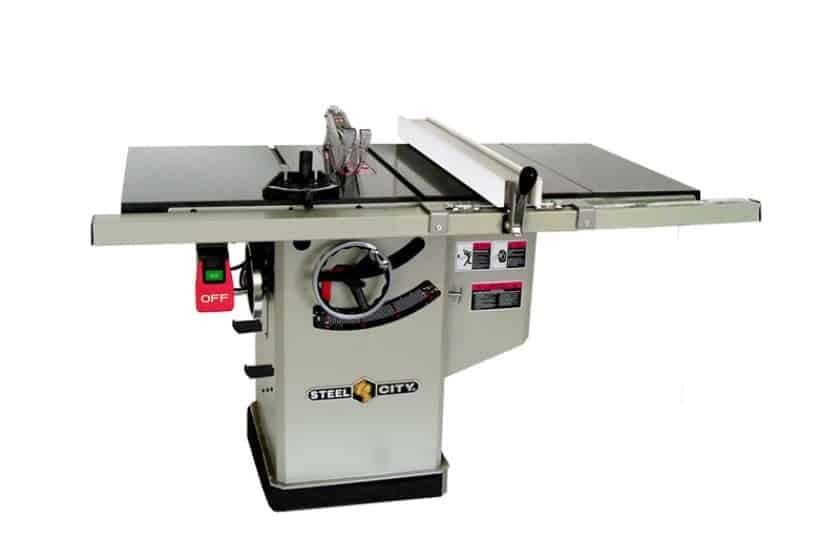 Cabinet
Lastly, we have cabinet table saws which are the most powerful type of all and can withstand heavy-duty use. They also tend to have very powerful motors and accurate fences but are not portable.
The Basics Of Table Saws
So as we can understand how table saws work, we need to strip them back to their basic parts, a table saw will consist of a fixed blade on typically a cast iron table which should be flat, you push your wood past this blade and the table saw will able to make a variety of cuts to your work such as angled or crosscuts.
We have listed out the basic anatomy of a table saw below.
Blade
The blade of a table saw is one of the most important parts, your table saw blade will come either with carbide, carbon or diamond-tipped teeth and can cut through a variety of materials, not just wood, this blade will also vary in size according to its teeth and differs due to other factors too such as the arbor size and speed.
There are likewise different types of blades such as rip cut or cross cut blades on the market, but whatever you choose, ensure it's of high-quality.
Rip Fence
A rip fence on your table saw acts as a cutting guide and is parallel to the blade, it also locks the material down and ensures it doesn't go anywhere as you are cutting.
You should check the rip capacity of your fence too to check if it will big enough for the type of work you will be doing, most jobsite table saws should have over 24" in size.
Mitre Gauge
The last yet most important basic part of a table saw is the mitre gauge. The mitre gauge is responsible for cutting woods at angles of 45-degrees and will also have a bevel adjustment option for cutting with.
Motor & Drive Configurations Of Table Saws
Along with the basic parts above you will also be faced with choosing two different types of motor and drive configurations for your table saw.
We have gone into some more detail about both types below.
Direct Drive
Direct drive powered table saws use universal motors that tend to have 120V of power and are mostly found on portable table saws, these are the best for DIY use.
Belt Drive
These motor types are very powerful and are the most desirable for professional use, the motors will operate on a 240V circuit and can come in quiet options too. You will often find this type of power on stationary table saws.
Extra Features & Accessories Of Table Saws
Now we understand the basic parts of a table saw and its drive systems, you should also familiarise yourself with the extra accessories and features that come with a table saw so as you can understand how the whole power tool comes together and what to look for in the best model.
Arbor - The arbor acts as a motor shaft that locks the shaft and blade making it easier to change.
Throat plate - This is a removable part around the blade that stops material from getting stuck around it.
Dust chutes - A dust chute is important on your table saw as it removes sawdust from the environment.
Table extension - Table extensions are great for cutting wider stock and will attach to your original table allowing you to have a bigger rip capacity.
Dado capacity - Dado sets allow you to cut wide slots with one pass, not all table saws support this so it is useful if yours does.
Feather board - This is a safety feature of your saw which keeps the material clamped against the fence of your saw.
Crosscut sled - For professional and accurate cutting, a crosscut sled is a great accessory as it keeps material fixed at a 90-degree to the blade.
Amps - The higher the amps, the more power your table saw has for heavy-duty cutting.
On/off switch - All table saws will come with an on/off button, the off button will be bigger for emergency use.
Elevation - This elevation handwheel will allow you to control the height of the cutting wheel, you can also use this to tilt the saw for straight or bevel cuts.
Frequently Asked Questions About Table Saw Basics
What are the benefits of using a table saw? 
A table saw is very beneficial as it allows for high-speed accurate cuts on your woodwork, it is also very versatile and can be used to make a variety of cuts for furniture, no matter its size.
Are there any safety tips for using a table saw? 
Table saws can be a dangerous power tool if used incorrectly, you should always follow some safety tips such as; using a riving knife, applying the right amount of pressure, not wearing gloves, using safety goggles.
How many amps should a table saw be?
A good amp power for general use should be at least 15 amps, however, it could be better to go higher if your looking to use your table saw for more professional heavy-duty work.
Last Words
To conclude, table saws are a great piece of woodworking equipment for everyone to use who is looking to make a variety of cuts on their work with high accuracy and speed. We always recommend looking out for the best features on your table saw such as a durable fence and accurate mitre gauge, you should always ensure that your model has enough power for the work you will be doing too.