What Are Compound Mitre Saws & How Do I Use Them?
If you after the best-angled cuts or mitre cuts on your woodwork, then a compound mitre saw is the best tool out there for you, and we are going to tell you exactly how to use it in the best way possible for the top woodworking results.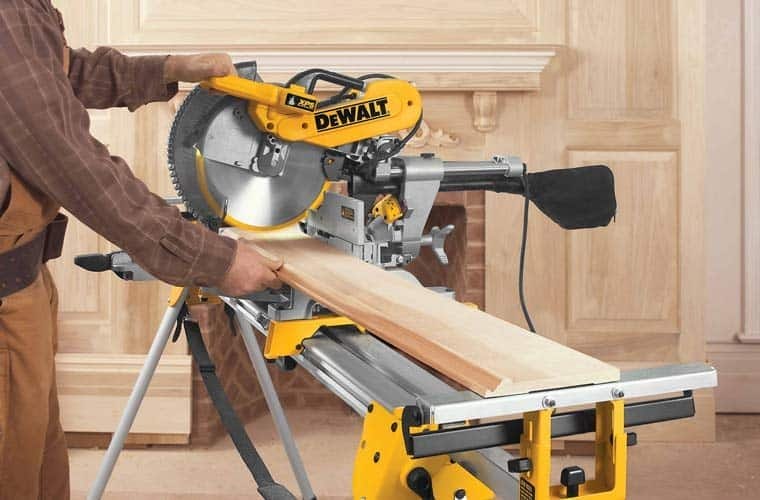 A compound mitre saw is pretty simple to function when you understand the parts and how they operate, all you need to do is place your wood against the fence of your mitre saw and set the angle/bevel then begin cutting, however, there are some tips and tricks which can help make this process easier. 
So to help you understand more about compound mitre saws, how they work and how to use one, we have put together our best guide below which will give you everything you need to know about these compound mitre saws so as you can be woodworking professional.
What Is a Compound Mitre Saw
A compound mitre saw is a versatile woodworking tool that allows you to make a variety of cuts in your work such as; cross cuts, square cuts, bevel and compound cuts.
This saw can pivot vertically and rotate horizontally for different angled cuts which tend to be either 45-degrees right or left. Most compound mitre saws additionally come with hard stop pre-set angles in between.
Main Parts Of a Compound Mitre Saw
So as we can understand how to use one of these saws later on in our guide, let's briefly go over the main parts of a compound mitre saw so as we can see exactly how they function.
Fence - The fence on your compound mitre saw is where your wood will rest against and keep it stable during cutting.
Scale - A scale will be located on your saw for making mitre cuts of either 45-degrees or 90-degrees on the machine, there will be a separate scale for bevel cuts too.
Table - Your compound mitre saw will include a table for the saw itself to rest on and the board.
Blade - When cutting your wood, the blade size should be the correct size for the material you are cutting, most tend to be 5-7 inches however, you will also find a blade guard on the saw to protect you and the blade.
Push-button - To turn your saw on and off there will be a power switch located on the machine, there will also likely be a handle power switch that lets you turn the blade on and off while you cut.
Regular Compound Mitre Saws VS Sliding/Dual Compound Mitre Saws
When looking into using a compound mitre saw, there are also two other types available on the market; a dual compound mitre saw and a sliding compound mitre saw.
We have gone into some more detail about these two variations below.
Dual Compound Mitre Saw
A dual compound mitre saw will allow you to cut your wood left or right without having to flip the board over, this is preferred by professionals as it saves you time and is beneficial when doing decorative woodwork, single bevel compound mitre saws only let you cut in one direction.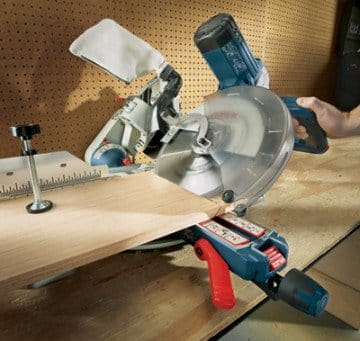 Sliding Compound Mitre Saw
Sliding compound mitre saws let you move the blade back and forth, allowing you to cut variable board sizes, making them great if you plan to be using your saw for larger and smaller woodwork sizes.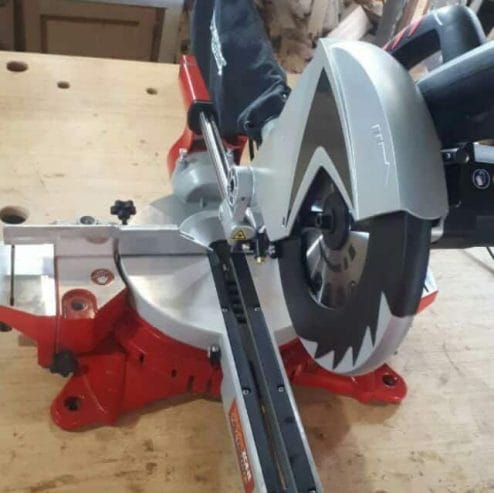 Why Should I Use a Compound Mitre Saw?
Believe it or not, although mitre saws are great, they might not be needed by every single woodworker. Compound mitre saws tend to be suited to people who make angled cuts often in work such as when making picture frames, crown mouldings or boxes. They may also be used professionally on construction sites where materials need to be specifically angled such as roofing.
We have listed out some other benefits below as to why you should use a compound mitre saw -
They are quick and accurate.
These types of mitre saws allow you to make three different cuts; crosscuts, mitre cuts and bevel cuts.
Good safety rating.
Easy to use.
How Do I Use a Compound Mitre Saw?
Now we know what a compound mitre saw is, its essential parts and why you should use one, we have put a basic step by step guide below which will teach you how to use one of these machines efficiently as a beginner.
Step One - Select The Right Size & Turn It On
Before you can start to use your compound mitre saw properly you should make sure it has enough power and size for the job, your blade size should be big enough for the width of what you are about to cut and the machine should have enough amps of power for the work required, for a more powerful job, use a more powerful compound mitre saw.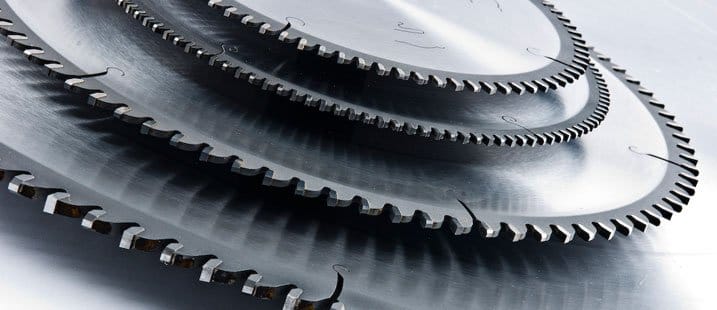 If your compound mitre is the right size you can begin by switching it on and adjusting the base of the saw and head according to the angle or bevel that you want to cut. Don't press the trigger handle power until you are ready to cut the material.
Step Two - Mark The Wood & Press The Trigger
Always mark where you want to cut on your wood with a pencil, remove the blade guard on your machine and lower it so as the teeth are exactly where you have marked for the cut, make sure it is against the fence on your machine.
Keep your hands away from the blade after setting it up.
Step Three - Get Cutting!
Now you have turned your saw on, let it cut the wood as it reaches its highest speed itself, for repeating long cuts use an adjustable stop and for shorter ones use a line on the guide. Never lift the blade once it has stopped until it stops turning.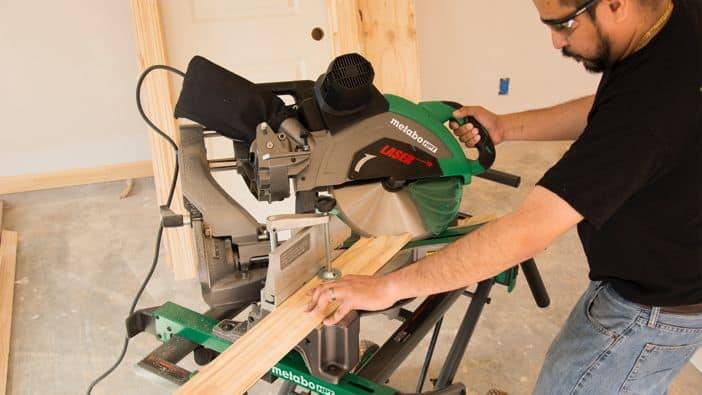 Step Five - Keep Big Pieces Supported And Experiment
A compound mitre saw is pretty easy to use once you get the hang of it but you should always remember to keep large pieces of stock supported with blocks and keep shorter pieces of wood clamped. Experiment with different angles and bevels so as you can get an idea of what fits.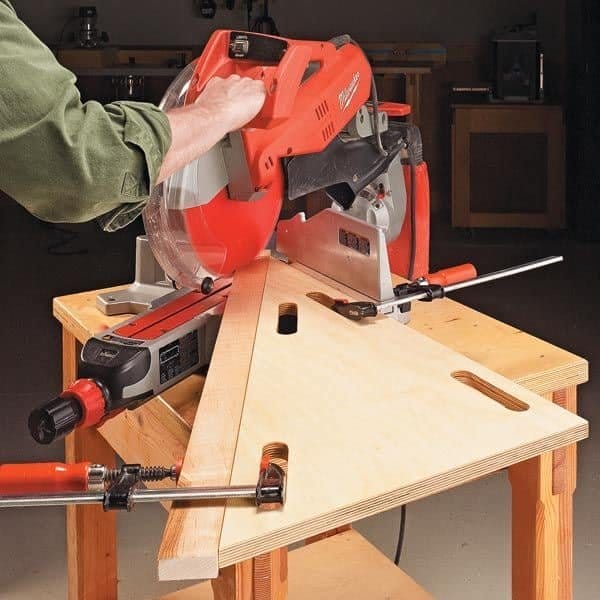 Safety Tips For Using a Compound Mitre Saw
Compound mitre saws are one of the safest woodworking tools on the market, but this doesn't mean you shouldn't take any precautions in case of an accident, you should also remember you are working with a powerful machine that has a fast powered saw, so it's better to be safe than sorry!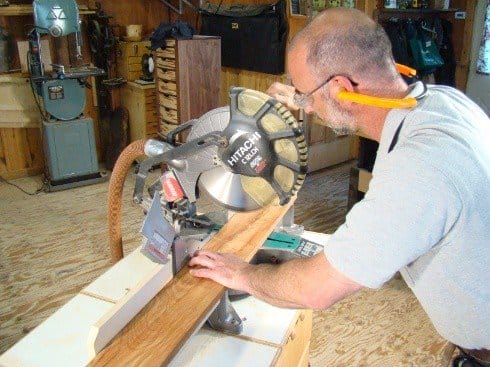 We have listed out some essential safety tips to consider below when working with your compound mitre saw.
Keep your hands away from the blades - Your hands should stay at least 6-inches away from the blades of the saw during use.
Ensure the blade guard is working - Double check that the blade guard is doing what it should be when you raise and lower the machine.
Wear ear and eye protection - Materials can fly off and mitre saws can be pretty noisy, ensure both your ears and eyes are protected with goggles.
Make sure everything is fastened - Make sure your blades and woodwork are fastened how they should be before powering on the machine, you don't want any of these things flying off!
Avoid long jewellery.
Wait for the blade to stop before lifting - Never lift the blade while it still spinning, instead wait till it stops.
Don't wear gloves - Gloves can get caught on the saw of the machine, avoid wearing them!
Frequently Asked Questions About Using a Compound Mitre Saw
Can a compound mitre saw help me cut a square?
Yes, compound mitre saws can help you cut a variety of angles including squares and acute angles.
How many amps should my compound mitre saw be?
A good compound saw should have anywhere between 12 amps and 15 amps of power, go for more power if you plan on doing more heavy-duty projects.
What is the difference between a compound mitre saw and a normal mitre saw?
A normal mitre saw can only make mitre cuts while a compound mitre saw can make compound and bevel cuts as well as crosscuts/mitre cuts, making it more versatile.
Last Words
To conclude, using a compound mitre saw is simple and just needs practice, it's always a good idea to mark the angles you want and get used to the parts on the machine before trying it out, always follow safety precautions too and keep your hands away from the blade of the machine during use!