Every competition has the leaders and followers; in the tool manufacturing business, Milwaukee and Makita are pretty high in the ranks. They both have a variety of quality tools fit for professionals and home use. Deciding between the two can be quite hard e, especially if you are new to the tool business, but this article is here to help.
Below I have outlined several individual tool features and compared them to each other.
Milwaukee and Makita histories at a glance
Milwaukee was founded in 1924 as an electric tool repair company. They first set up shop in Wisconsin hence why many American contractors prefer the brand as a sign of patriotism.  They dedicate themselves to unmatched durability and simplified functionality.
Milwaukee tools are by far the most expensive in the industry and with arguable reason; If you want the best, you got to be ready to pay for it. If you do not plan on leaving an arm and a leg in the stores, you might want to consider cheaper options like Makita.
Makita Electric Works as it was initially known, also started as an electrical repair company back in 1915. It was launched in Japan, and by that time, the manufacturing industry there had just conceptualized. After several years as a repair company, they branched into manufacturing tools in 1958. Since then, the tool world has never been the same.
Makita is by far the most prominent innovator, and thanks to them, you have the comfort of using cordless tools. The Makita 6500D had a massive battery that was connected with a cord to the device. The machine required a lot of manpower to get from one place to another and finally, in 1969 the cordless drill was launched.
Outstanding features -Milwaukee vs, Makita
Although both of these brands manufacture tools with top-notch qualities, they both have different attributes that pitch them at the top. Below are a few of the main ones;
Milwaukee
Red lithium battery- this type of battery will last you a lifetime saving you replacement costs. Also, the battery has a large storage capacity to last you several hours more than most competing devices.
Extensive control- As a recent improvement on their tools, they now have four buttons on the control pad aimed at improving your control and increasing the output power.
Makita
Affordability- Unlike the competition, most pf their prices are relatively low. This is besides the fact that the quality is not compromised.
Star protection technology- This feature gives you progress data as the tool is at work hence preventing over-heating and over-loading. The tool and the battery also self-coordinate to avoid over-discharging.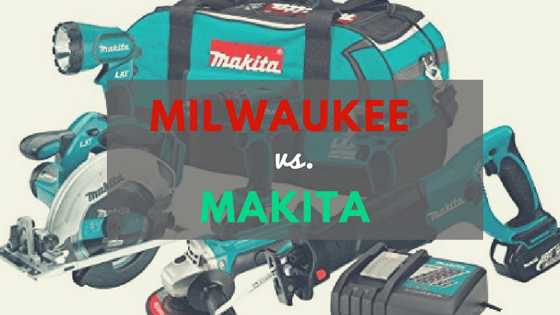 in order to comprehensively compare the two brands, I analyzed both of their prized combo tool kits. They both come with the essentials, a hammer drill, impact driver, circular saw, reciprocating saw, angle grinder, and a work light. Below are the results of my tool-to-tool thorough analysis;
1.Hammer drills
This drill is by far the best in the market. It comes with 1200lbs maximum torque which, is a very powerful production. They added a power state brushless motor with speeds of 0-550 and 0-200 RPM.  This touch will help you alternate between first speeds and low speeds without the worry of wearing the brush out.
The handle comes with a detachable handle with rubber on its grip, ensuring your comfort is guaranteed for those who use them for long stretches.
The hammer drill comes with LTX chargeable lithium batteries which, last you forever and charge within 15 minutes' tops.
The design is very compact and lightweight to reduce the workload. For enhanced comfort, it has a rubber handle ideal for use in professional jobs where you will be at work for long periods.
The brushless motor moves at 0-600 and 0-1900 rpm, this is lower than the competition but more than necessary. At 480 lbs maximum torque, the production is also wanting with a lot of room for improvement.
Winner; Milwaukee.
The saw is 6 -1/2 equipped with a brushless motor of 5000 RPM. This shows you how fast it can be and guarantees fast cutting.
It only weighs 6.8 pounds for easy handling especially, for those on extensive professional duty. Also, if you work in a dark area, the saw has a flashlight on its top for easy illumination.
This circular saw comes with a torque of 3700 RPM hence needs to be improved. This power capacity will serve you well, regardless.
With a weight of 7.8, it will not cause fatigue if you work for extended periods. Also, the handle is rubberized and compact to improve your experience.
The base is heavy precision to help you achieve clean lines while it also increases durability.
Winner; Milwaukee.
3. Angle grinders.
In this section, they both similar production capacity with speeds of 8500 RPM, which will grind through virtually anything within minutes.
They are both 4-1/2 inches to optimize the performance. However, the weight differs as Makita stands at 55 and Milwaukee stands at 5.8.
Winner: it's a draw.
4. Work lights
For professionals, work light is a must-have. This one comes with an LED bulb of 160 illumes. It will run for 12 hours without recharging hence very practical.
At 0.5 lb, it is very lightweight hence less luggage, and it rotates up to 135 degrees hence full room coverage.
This light is very bright as it comes with a 4500 lux/180 lumens bulb making it very effective for professional use.
Its battery runs for only 4 hours though which is quite a bummer. You can set it up to 4 positions on your head or shoulder for comprehensive coverage.
Winner; Makita.
Summary
Milwaukee takes the win as you have seen most of its tools are better. The difference is, however, too small to warrant a 40% difference in price. So if money is not an issue go for Milwaukee.