A Beginners Guide To Using a Sliding Mitre Saw Correctly
Mitre saws are a godsend for most woodworkers, they allow us to cut precise angles with ease and come in many shapes and sizes. The larger the blade that comes with your mitre saw, then the wider the piece of the material you can cut.
Except for sliding mitre saws, these types of power tools work the same as a standard mitre saw, except have a sliding arm that enables you to move the blade up and down, allowing you to cut even wider than your blade allows.
Functioning sliding mitre saws are easy too once you know how the different parts work and how to use them properly such as the fence, you should also use your sliding mitre saw safely by wearing the correct equipment and keeping the blade down till it stops rotating. 
So as we can explain in greater depth how these sliding mitre saws work and the safest way to use them, we have put together our top tips and tricks below in a guide to help you out.
What Is a Sliding Mitre Saw & How Do They Work?
A sliding mitre saw is a powerful tool that can make accurate crosscuts or mitre cuts at specific angles for your woodwork. The sliding arm of these mitre saws allows you to move the blade back and forth, helping you cut large materials with ease and removing the restriction of a normal mitre saw.
If you have a sliding compound mitre saw this will additionally allow you to make bevel cuts as well as mitre cuts, it will also have guide rails for the sliding mechanism.
Main Parts Of a Sliding Mitre Saw
On/off button.
Blade.
Fence.
Blade guard.
Table.
Mitre latch.
Mitre handle.
Slide rails.
What Should I Use a Sliding Mitre Saw For?
You might be wondering if you need a sliding mitre saw and what uses it comes with it for your woodwork, we have listed a few common uses for a sliding mitre saw below.
Cutting wide projects at angles.
Making crosscuts - Apart from a table saw, a sliding mitre saw is the best power tool out there for cutting a board in half accurately and professionally, sliding mitres are especially good for tackling wider boards.
Angle cuts - Whether you need to cut flooring or do trim work, a sliding mitre saw will allow you to cut angles at 50/45-degrees left or right, this is also great for making furniture at accurate angles.
Bevel or compound cuts - Although these cuts might be needed less in woodworking than the above, a sliding compound mitre saw will let you make some great bevel or compound cuts if required and can create complex angles in your work.
Repeated cuts - For getting the same accurate repeated cuts, a sliding mitre saw is the best.
Remodelling.
Sliding Mitre Saws Vs Regular Mitre Saws
When deciding to buy a mitre saw, you have probably looked into buying either a regular mitre saw or a sliding mitre saw, so to make the pros and cons of each model clearer, we have compared the two types of mitre saws below.
Regular Mitre Saws
A regular mitre saw can do the same function as a sliding mitre saw except it comes with no rails included. This type of mitre saw tends to be the best for making picture frames as it cuts at a 45-degree angle.
It is also suitable for the majority of wood pieces as it cuts up to 6-inches in four different ways; cross-cut, angle cut, bevel cut and compound cut. Its no rails also allow you to make arcs in your woodwork and cut very accurate angles/45-degree joints.
Drawbacks of these regular mitre saws are that they can't cut large pieces of wood, have a small reach and don't vary from 45-degree angles.
Advantages
Best for small cuts.
Lightweight.
Durable.
Good for making joints.
Disadvantages
Does not have a long reach.
Only stays with 45-degree angles.
Sliding Mitre Saws
Sliding mitre saws function the same as a regular mitre saw except they have the option of being able to move the blade for longer pieces of wood, this also means you don't have to flip the wood, saving you time.
The drawbacks of sliding mitre saws are that they tend to be heavier due to the addition of the sliding mechanism, they are further a little more expensive than regular mitre saws.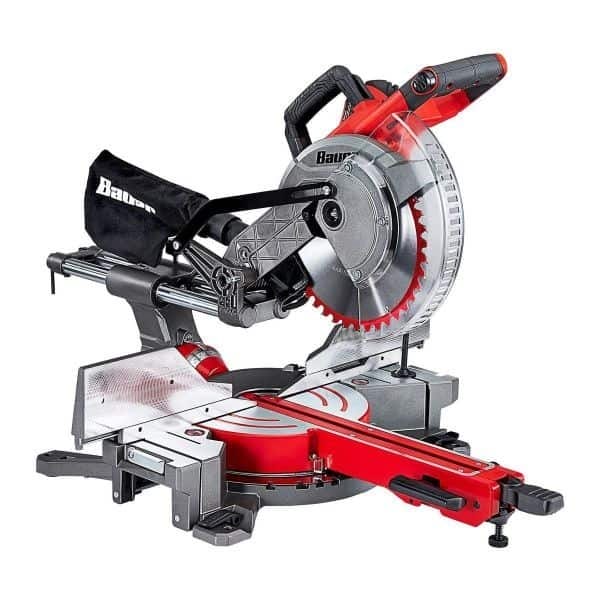 Advantages
Great for wider pieces of wood.
No flipping of the board.
Gives more control.
Saves time.
Disadvantages
Heavier weight.
Expensive.
Conclusion
Overall, which type of mitre saw you pick comes down to the work you are doing, if you like to make small frames and joints, stick with a regular mitre saw, however, if you want to have the ability to make large cuts, it's better to go with the more versatile sliding mitre saw.
How To Operate a Sliding Mitre Saw In a Safe Way
Operating a sliding mitre saw is easy once you get the hang of it, we have listed some simple steps below to show how to use your sliding mitre saw for the first time as a beginner.
Step One - Secure your wood against the fence of the saw and clamp it down.
Step Two - Pull the saw towards you so as it is over the board's edge.
Step Three - Press the trigger, let the saw come to its highest speed then pull the blade down into the wood.
Step Four - Push the saw back and away as it cuts through the wood.
Step Five - Release the trigger, allow the blade to come to a halt then lift the saw.
Safety Tips For Using a Sliding Mitre Saw
Sliding mitre saws have very sharp blades and are not to be used in an incorrect rushed way. You should always follow the best safety guidelines when using a power tool like this to avoid any accidents.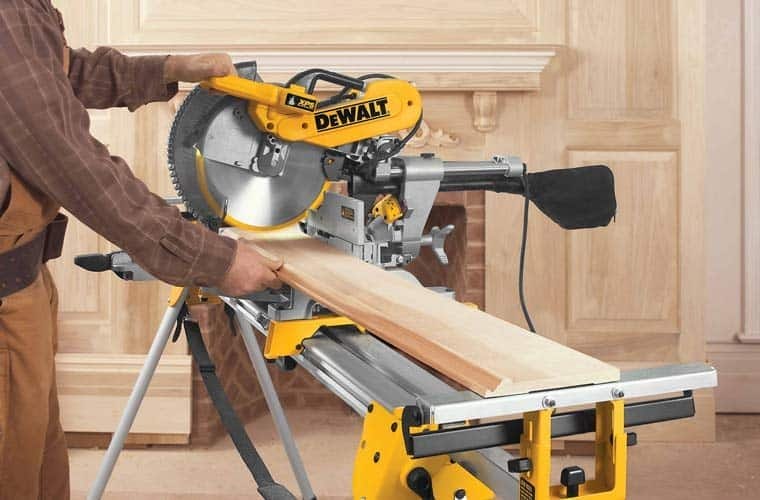 We have listed out our essential safety tips below.
Never pull a sliding mitre saw - Always slide the blade away from you instead of pulling it towards you, this is a common mistake made by beginners.
Wear safety protection - Wear ear and eye protection to avoid any dust going into your eyes and to block out the noise!
Keep the saw stable - When cutting larger pieces of wood with your sliding mitre saw it may tend to wiggle around a bit, to avoid this from happening bolt it to a workbench.
Don't let your hands go near the blade - Keep your hands at least 6-inches away from the blade at all times.
Always keeps the blade lowered when not in use - If your machine is turned off, keep the blade lowered, make sure you lock this position too and unplug the machines, this will stop kids wandering hands from getting injured if they find themselves in your workshop.
Keep the blade lowered until it stops - Only lift your blade at the end of your cut when it has stopped spinning.
Frequently Asked Questions About Using a Sliding Mitre Saw
What is crown moulding? 
Crown moulding is the trim between a roof and a ceiling, this is often cut on a mitre saw as it needs specific angles to make each end of the joint fit.
Is there a difference between a compound mitre saw and a normal mitre saw? 
Yes, a compound mitre saw will have the ability to make bevel cuts as well as mitre cuts, a normal mitre saw can't do this, instead, a regular model will be limited to its 45-degree angle cuts and crosscuts.
How much does a sliding mitre saw cost?
On average in the UK, a sliding mitre saw will normally start at £100 and above for a high-quality model.
Final Words
Overall, using a sliding mitre saw is not too difficult, just ensure you familiarise yourself with all the parts and how they work before using your machine, wear safety gear too and practice on some test boards if it's your first time.
Always follow our safety tips and tricks above so as you can avoid injury or accidents while operating the saw too.