DeWalt 18V Cordless Circular Saw
The DeWalt brand has been around the block a few times when it comes to providing top quality products for their consumers so they know a thing or two when it comes to top quality cordless circular saws. The DeWalt 18V Cordless Circular Saw (VIEW PRICE HERE!) has received plenty of positive reviews from consumers who have had this for a few years which just goes to show its reliability and ease of use. This DeWalt circular saw was introduced into the market in 2012 and as it is still around now gives it a lot of credibility. There aren't many other circular saws out there that can provide the same experience as this one and it you are looking for a reliable product that is going to last you for years to come this DeWalt Circular Saw could be the product you are looking for. This circular saw has everything from a spindle lock to a 55mm cutting depth that will cut through even the thickest of materials and for the price tag this DeWalt product goes for makes it great value for money.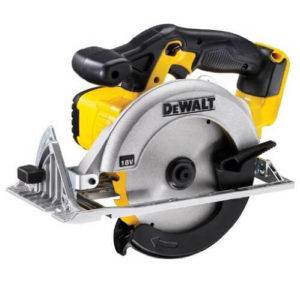 If you are looking for a top quality circular saw that can undertake some of the toughest of jobs then this DeWalt circular saw could be the answer. Have a look at some of the features this product is able to provide its users:
Ultra-thin blade – This DeWalt circular saw can cater for ultra-thin cutting blades which will reduce power drain and ultimately increase cutting performance.
Quick blade changes – With the spindle lock users will easily and safely be able to change the blade in just a few seconds thanks to the quick blade change feature it provides its users.
Ergonomic handle – This product was designed with comfort in mind and was built ergonomically with a hand grip which gives users much better control during operation. It is very comfortable even during tougher applications.
Lithium-ion battery – This product comes fully equipped with lithium-ion technology which means battery packs last a lot longer even when used for tougher applications. You will find that the lithium-ion technology provides a much more powerful experience when compared with its competitors.
Very lightweight – This circular saw was built with weight in mind and only consists of 3.2kg which makes cutting a lot more comfortable and doesn't strain any joints when using for prolonged periods.
Fan cooled motor – The fan cooled motor ensures the product doesn't overheat even when it's used for prolonged periods.
This product doesn't come with the battery or the charger but for what you pay for just the body of the circular saw means you will have plenty leftover to purchase the essentials to get this product up and running. That is more or less the only bad thing to say about this circular saw by DeWalt and if you can get past that you will have yourself a cracking circular saw that won't bow down to any challenge in front of it. This DeWalt cordless circular saw is perfect for those looking to cut floorboards and decking thanks to its 55mm cutting depth and with its many other features and settings makes this tool perfectly capable of doing any job thrown in front of it. There isn't a lot this circular saw can't do when cutting the toughest materials and thanks to its robust structure and powerful motor you will find this product is able to cut through many materials with ease. It has received fantastic reviews thanks to the powerful thin blade it provides its users and with all of the features it comes packed with would make this a top buy for any tradesmen.
In conclusion, if you are looking for a cheap circular saw that is robust and has all the features you need to start cutting, you will find this DeWalt Cordless Circular Saw a brilliant buy and you will wish you found out about it sooner. DeWalt has been providing top quality cutting power tools to their consumers for years now and this cordless circular saw is at the top of its cutting range thanks to its many features and durability.
Summary
Features: Fan cooled motor – Lightweight – Ergonomic Handle
Pricing: Affordable