Ryobi CSD4130GN 4V Cordless Screwdriver
The Ryobi CSD4130GN 4V Cordless Screwdriver (VIEW PRICE HERE!) was released in 2010 and is still a contender among the best compact cordless screwdrivers out there even on today's market which just goes to show how reliable this product is. The power of this Ryobi Cordless Screwdriver is surprising seeing as the size of it is so compact but many consumers have been using this product for years and on a daily basis for odd jobs to drilling into breeze blocks. Ryobi has a name for producing top quality products that last and this cordless screwdriver has done them even more justice – it's perfect for any kitchen fitter and just to have lying around the house when needed. Many trades in the construction industry have added this cordless screwdriver to their own toolboxes because of its size and ease of use which just goes to show how diverse and powerful this device is.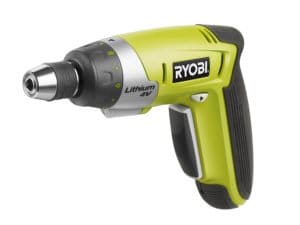 If you are looking for a cordless screwdriver that will fit in almost any toolbox thanks to its size and one that can be used for minor jobs on a day to day basis then this Ryobi product should definitely be considered. Have a look at some of the features it is able to provide its consumers:
Lithium-Ion battery – The Lithium-Ion battery will ensure users always have some battery juice to get going whenever they need it most. The lithium battery is used in almost all cordless screwdrivers these days because they provide a lot of power without using too much of the battery.
12 torque settings – 12 different torque settings will ensure users are capable of doing a variety of applications into a variety of different materials.
Forward/Reverse gearbox – The forward and reverse gearbox is invaluable and will provide users with that added control over their applications.
LED Light – A small LED light at the front of the cordless screwdriver gives users an added advantage when working in dimmer areas where light is limited, such as in cupboards or in corners of the room.
Overmould grip technology – Ryobi have introduced a special overmould grip technology into this screwdrivers design which provides a much more comfortable grip and also provides the users with much more control during applications.
30 piece bit set – Presented with this screwdriver with a handy 30 piece bit set that will ensure you have bits for a variety of applications.
Grip case – This cordless screwdriver comes with a nice grip case which will help users carry the screwdriver around site and keep everything together in one place, including the charger.
Charger – The charger also comes with the purchase so you will be able to start charging your battery as soon as you have opened your package, and within an hour you'll be able to take advantage of the drill and all of its handy features.
¼" Hex – A tool reception of ¼" hex will ensure a variety of bits can be fitted for a variety of applications.
Small & lightweight – This Ryobi product was built with small and lightweight in mind which gives users an added advantaged when working in areas where space is very limited.
Quick change – You will be able to change bits with one hand thanks to the quick change feature this Ryobi product provides its users. The spindle lock will automatically attach the bits so you need to do nothing more other than put a new bit in.
The Ryobi brand has established itself as one of the go to places for top quality drills and other products and if you are looking for a product that is not only affordable but one that is going to last, then the Ryobi Cordless Screwdriver should definitely be considered. It comes with a lot of handy features such as the quick change function and the LED light and the fact it is very small and compact means it can be used in all the hard to reach places that standard screwdrivers aren't able to. This product comes with a good 5.3Nm of torque which is powered by its 4 V 1.5 Ah battery so you know you are going to be able to do a lot of jobs even the standard sized screwdrivers are able to.
Summary
Features: Grip case – Quick Change – 30 piece bit set
Pricing: Affordable